Australian Cancer Research Foundation (ACRF)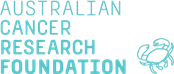 Fundraise, donate & share to show your support
The Australian Cancer Research Foundation (ACRF) is dedicated to helping discover the treatments and cures for cancer by funding world class research within Australia.

ACRF is the largest private funding body for cancer research in Australia. Since its inception in 1984, it has awarded $129.2 million in grants to the most promising cancer research projects in the country including the cervical cancer vaccine which has, since its release in 2006, been administer to women and girls in over 100 countries.
 
 What makes ACRF different?

We raise funds exclusively for research into the prevention, diagnosis and treatments for ALL types of cancer, in centres right across Australia.

We help to finance facilities and equipment not otherwise provided for by State or Federal governments, and we receive no government funding ourselves.
Fundraising Opportunities
Latest Supporters
Christopher Hermansson $50.00
Christopher Hermansson $50.00
Highest Supporters
Winnie Yu $250.00
General Reinsurance Australia Ltd $66.00
Supporters
Supporter Name
Amount
Message
No records to display.
Displaying items 0 - 0 of 0