Big C Support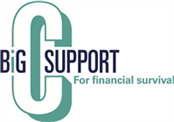 Phone:

0435002698

Email:

Web:

Address:

1/31 Elizabeth Bay Road, Elizabeth Bay NSW 2011
Fundraise, donate & share to show your support
CANCER COST IS A KILLER




Every 4 minutes another Australian is diagnosed with cancer.




Did you know the average out of pocket costs for treatment are $45,000




1 in 2 men and 1 in 3 women will be diagnosed with cancer.  How would you survive?




For many the financial stress will pose an even greater health risk than the cancer




Big C Support's first mission is to help cancer patients who have cancer now.  We are piloting a program to make Financial Counsellor's avaialble to cancer patients and their families.  These trained independent experts find ways to easy any financial stress.

Whether you need to take time off work to undergo treatment yourself or for someone in your care, you should not have to worry about how you will afford the medical expenses as well as those other bills.
Big C Support needs your support to commence our pilot financial counselling program, helping people with cancer.

Consider this:
You are a single parent and you hear those horrible words I heard in 2006 "you have cancer" you have been working part time for a family business so that you could be there for your kids you have no holiday or sick pay.  You discover that you will need a couple of hundred dollars to see the specialist, you get that together then the specialist tells you you will need scans and then you then discover as they require high quality scans that are generally only available at private facilities they will cost you around $1500 (and that is not the expensive end of the scale).

You can have your surgery as a public patient so that is covered, then you are told by your Oncologist that you need chemo (there is a co-payment in NSW for chemo that is meant to only be paid on the initial script but for most cancer patients there type of chemo keeps changing so they are regularly paying for the original script) and that the only drug that could possibly assist you or has the maximum chance of assisting you is not on the PBS in other words it is not subsidised by the government so it will cost you $17,000.00 for a single dose and you need 3 doses!! (and this is also not on the expensive side).

What would you do?
Presently cancer patients are left to go services shopping which is not only humiliating as they are required to tell very private information constantly to complete strangers, the information they are given is largely dependent on who answered the phone and there level of knowledge and if the cancer patient asked the riqht question.  It is also very time consuming and confusing.  Can you imagine having to do that whilst you have cancer?

It is all too often the case that people when they find themselves in this scenario end up refusing treatment, their life is at stake and they realise they may go through all the treatment which will means they may lose everything and yet still then could end up loosing the battle with their health, so instead of risking eveything to save their life they refuse treatment to guarantee their family will be okay.  Can you imagine if that was your mum, dad, daughter or son making that choice, how would you feel?  No one in Australia should be in that situation.

So Why Financail Counsellors?
Because a Financial Counsellor is an indpedent highly trained person that works solely and free of charge to their clients (they are paid by their employing organisation which is not allowed to be a bank or financial institution)  in the area of managing financial stress and debt reduction. 

To find out more about these amazing people please go to the link below:

Big C Support will be employing their own Financial Counsellors we believe this is way better than just referring them on and then losing track of people along the way.  Also by employing our own Financial Counsellors they will become experts in issues that specifically relate to cancer patients it also means that Big C Support will be able to develop a level of expert knowledge and data as we will be getting the imformation about issues that are still impacting on cancer patients directly from the patients and the Financial Counsellors this information will then be used to proactively develop plans to meet those issues.

However, we do recognise that whilst getting access to a Financial Counsellor will more than likely solve all the issues for about 60% of people that the other 40% will probably need for us to take over and manage their bills/accounts whilst they are going through treatment - at no time will Big C Support directly hand money to individuals and that will be our second tier of assistance.

Big C Support is also interested in raising awareness in the general public that not all costs of cancer are met by either Medicare or private health insurance so as to encourage those that can to take out mortage or personal insurance just in case they do hear that awful news.  Research has shown that presently the majority of the public believe that all costs are covered by Medicare and also do not realise how expensive medication not on the PBS scheme can be. 

At the moment it seems Big C Support may be a little ahead of the "perfect storm" in that in Australia we have an ageing population that is under insured, and has limited personal finance available - which means that the requirement for an organsiation such as Big C Support is only just starting to be realised but there is only one way for the demand level for our services to go and that is up.  So if you want us to be there when you or your loved ones may need our help then you need to get behind us NOW so that we will be there.

A few other facts you may like to know about Big C Support everyone involved is so committed to changing this situation that not one  person involved (including the CEO) is paid all are donating their time and services voluntary as we want to see as much of the money going to getting our pilot program up and running and then the roll out across NSW then hopefully the rest of Australia ASAP.

Whilst Big C Support is presently only registered in NSW our aim is to be a national organisation and to remove the redtape and  confusion for cancer patients.  There are presently other cancer charities around that will as part of what they do offer financial assistance or other wise they offer it depending upon where you live - Big C Support knows cancer pateints and their families find this frustrating and confusing as it comes down to you needing to figure out which organisation looks after your cancer etc.  Also there are huge gaps a lot of the more lethal cancer have only a small support group because sadly simply due to the effect of the cancer the very people that should get behind them cannot.  

Big C Support believes as financial assistance and support in such a stressful time is THE most practical assistance that can be provided to remove stress then it needs to be as easy as possible to get that support  so the only criteria that you need to get support from Big C Support is for you or a loved one been diagnosed with cancer (but believe me we all at Big C Support hope one day that no one will ever hear that news again and we will have shut up shop) but until then we want to be their to at least remove part of the worry that news brings.

To find out more about us please visit our website:

Or like us on our facebook page - believe me we will really like you for it :)

https://www.facebook.com/media/set/?set=a.152422161439590.30915.152242121457594

Please spread the word about us being out their for cancer patients because as a small grassroots organisation having to compete with larger better funded organisation for people's attention and funds well to put it basically we need your help to get out their - thanks :)
Nelson Mandela said: 

"Overcoming poverty is not a task of charity, it is an act of justice  Like slavery and aparthied, poverty is not natural. It is man-made and it can be overcome and eradicated by the actions of human beings.  Sometimes it falls on a generation to be great.  YOU can be that great generation.  Let your greatness blossom."
Fundraising Opportunities
Latest Supporters
David Stenson $50.00
Catherine Sykes $50.00
Highest Supporters
Peter Perl $400.00
Anonymous $100.00
Supporters
Supporter Name
Amount
Message
No records to display.
Displaying items 0 - 0 of 0