Macular Disease Foundation Australia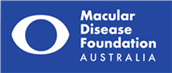 Phone:

1800 111 709

Email:

Web:
Fundraise, donate & share to show your support
Macular Disease Foundation Australia is a national charity committed to reducing the incidence and impact of macular disease in Australia through education, awareness, research, support services and representation.
 
Macular disease encompasses macular degeneration, diabetic retinopathy, retinal vein occlusions and a range of other macular diseases.
 
The Foundation provides information, guidance and support on prevention, early detection, treatment and rehabilitation. The Foundation is the voice of the macular disease community.
 
For more information visit www.mdfoundation.com.au
Fundraising Opportunities
Supporters
Supporter Name
Amount
Message
No records to display.
Displaying items 0 - 0 of 0