Motor Neurone Disease Research Institute of Australia (MNDRIA)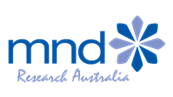 Phone:

02 8287 4989

Email:

Web:

Address:

PO Box 430 North Sydney NSW 2059
Fundraise, donate & share to show your support
It is only with research that the future of MND will change. Motor neurone disease can strike anyone. Two people with MND die in Australia each day. Motor neurones are nerves that make muscles work. For reasons that are not yet known, these nerves die in people with MND. When the nerves die, the muscles that are needed to move around, speak, swallow and breathe, fail to work normally. As more motor neurones die, muscles become paralysed and this inevitably leads to death.
Information about MND research. More information about MND. 

The MND Research Institute of Australia promotes MND research and encourages projects in both basic science (to understand the causes and find effective treatments and a cure) and applied research (to provide the best possible care for people living with MND). Funding is provided for MND research in Institutes throughout Australia.

The MND Research Institute of Australia aims to provide at least $3,000,000 for MND research each year. Your help is needed to achieve this goal.
Fundraising Opportunities
Latest Supporters
Anonymous $30.00
fg fdg $10.00
Top Teams
Highest Supporters
Con Megalos $500.00
Patricia Smith $500.00
Supporters
Supporter Name
Amount
Message
No records to display.
Displaying items 0 - 0 of 0