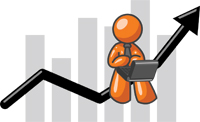 Why Fundraise Online?
Harness the power of online fundraising with GoFundraise!
Fundraising is traditionally a high cost and resource-intensive exercise and now, more then ever, charities and not-for-profit organisations need more effective ways to fundraise. With online fundraising, you can now benefit from a low cost and highly effective fundraising solution.
Empowering people to fundraise
GoFundraise makes it easy for supporters to fundraise on your behalf. Whether it's your own event, a third party event, or even a special occasion your supporters create themselves.
Online fundraising harnesses the power of peer-to-peer marketing, where your supporters use their own social networks to effectively fundraise by reaching a wider audience.
Here's how it works:
You create and maintain a charity page, which includes images, a profile, and even video content
Users create a dedicated fundraising page and select you as their chosen charity/cause (your profile is automatically displayed on their page)
They can then email everybody they know with a direct link to their fundraising page.
People can donate directly and securely using credit/debit cards (they can even leave a personal message of support!).
GoFundraise automatically issue donation receipts, provide full donation reports for reconciliation, and funds raised are paid into your account
How do I register my organisation?
Registering with GoFundraise is easy - you simply complete our Online Fundraising Service Agreement. To find out more, use our online enquiry form or call 1300 889 272
What are the benefits?
GoFundraise have developed a proprietary system that is both user-friendly, and effective. In fact, no matter what level of IT experience you have, you can easily download key information, and communicate with your fundraisers.
Significantly reduce your cost-per-dollar of fundraising, leaving more money to put to good use.
Benefit from peer-to-peer marketing to reach a wider audience of donors and fundraisers
Use our Donor Relationship Management system to effectively communicate with your supporters and provide encouragement.
Download data and reports on demand, in real time.
Tap into the events that GoFundraise support to raise more money
Use the GoFundraise system to launch and manage your own online fundraising events
What does it cost?
Online Fundraising provides one of the most cost-effective fundraising methods available today. You can dramatically reduce your cost-per-dollar of fundraising and also utilise our Donor Relationship Management tools to more effectively communicate and encourage fundraisers.
GoFundraise charges a small 6% service fee or (5.75% where an * is displayed at the end of the beneficiaries name) that is deducted from gross donations collected on behalf of the charity or not-for-profit organisation. After an introductory period, there is also a $25 plus GST monthly hosting & administration fee that allows GoFundraise to provide ongoing services.
A Credit card processing fee of 0.96% and a 20-cent per transaction fee are also deducted.
Here's an example:
| | |
| --- | --- |
| Total Donation | $30.00 |
| Administration fee of 6% | $1.80 |
| GST @ 10% | $0.18 |
| Credit card processing fee 0.96% | $0.29 |
| Credit card fee per transaction | $0.20 |
| Total fees | $2.47 |
| Donation to charity | $27.53 |
| Charity Reclaim GST | $0.18 |
| Total Net Amount To Charity | $27.71 |